freesschijven freesbladen vloerverwarming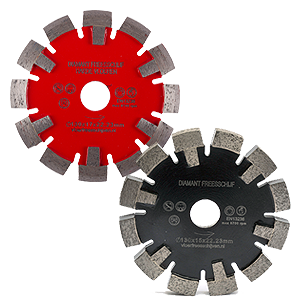 Diamond grinding discs - underfloor heating systems
Our high quality diamond grinding discs for underfloor heating systems are used for milling into existing floors.
We provide grinding disks / milling cutters in 3 types for most common floors:
- Black diamond grinding discs for medium hard floors ( cement screed, anhydrite screed etc.)
- Red diamond grinding discs for hard floors ( screeds, concrete, tiles etc.)
- For fermacell overlay systems in underfloor heating we offer fermacell milling discs.
All discs are available in standard dimensions:
- 15 or 17 mm wide (depending on the used underfloor heating tubes)
- Diameter 120 or 130 mm (depending on the used milling machine)
- Retainer 22,23
- 12 T-segments for diamond disks to create tight curves.